Photography Services
Maui has some of the most beautiful backdrops on the world that set the stage for memorable and professional family portraits. If you plan on celebrating your wedding on Maui, having a local photographer who knows the best locations and most interesting uses of Hawaii's natural beauty is essential for capturing the most special moments of your big day.
We have chosen Frank Baranik, an award winning professional wedding, family and vacation photographer right here on Maui as our top choice for capturing beautiful beach front family and tropical wedding portraits to immortalize your Maui vacation.
Guests who book with us receive an exclusive 10% discount off all Frank Baranik's professional photography services.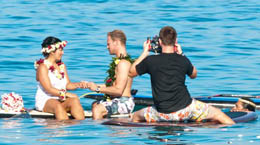 Born and raised in Czechoslovakia where he developed the love of art photography in his early years, Frank Baranik moved to Maui to continue his passion of photography and has spent many years photographing hundreds of weddings and portrait sessions where he has earned much recognition. Aside from wedding and portrait photography, Franks has pursued his personal creative ambitions and his own artwork can be found in art galleries across Hawaii, Europe and continental US.