It's 3:13pm in Maui: This is a live view from the webcam on the lanai of our condo! At different times of day, you will see different views.
HD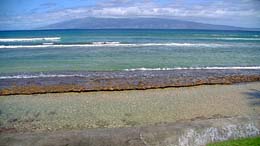 When the weather is calm, this is our view.
When a tropical storm isn't hitting Hawaii - which is most of the time - here is the view to expect when the water is calm and the sun is shining. Many of our guests feel that this is the closest they can ever be to paradise on earth. It's hard not to guess why. Tropical Storm Darby and Tropical storm Julio are rare events, however exciting to see nevertheless. Our live webcam is in West Maui, looking West Northwest over the Pailolo Channel with the Island of Molokai in the distance. Our condo is 10ft from the waters edge - one of the closest condos in all of Maui to the waters.
FROM NOAA:
No current storm in CPHC Central Pacific Wallet 3
No current storm in CPHC CP3 as of Fri, 08 Feb 2019 17:15:02 GMT
\