Weather forecast
Here's the current weather on Maui, specifically, the Lahaina/Kaanapali/Honokowai area of Maui. To find out what the weather should be like when you arrive, see the Maui climate data below.
Report from NOAA: Surface high pressure far north of the islands will maintain locally breezy trade winds through the middle of next week. A weak disturbance passing south of the state may cause a slight increase in trade wind speeds starting early next week.
Maui Climate
Maui's climate is the temperature Goldilocks would love: not to hot, not to cold! The moderate humidity, persistent breezes, equable temperatures and plenty of sunshine give it a climate that may be regarded as one of the state's most important natural resources.. The influence of the ocean gives Hawai'i a low day-today and month-to-month variability at sea level, while the mountainous topography and the cooler temperatures with the increase in elevation help make Hawaii's the most spatially diverse on Earth.
Although Maui Sands has one of the driest climates on the island, it get's just enough rain at the right time of day to deliver spectacular rainbows - an iconic symbol of Hawaii.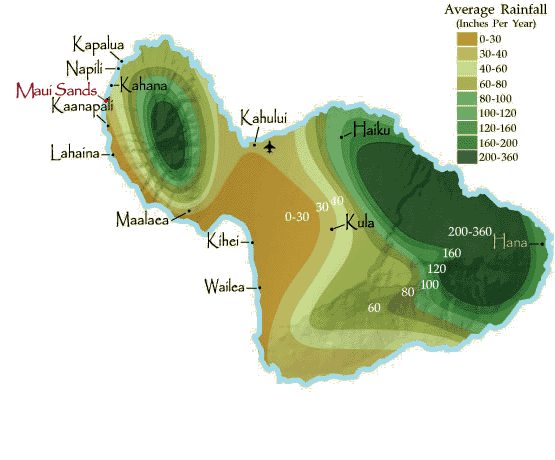 Lahaina, Maui Climate statistics
There is no data collection for Honokowai, so imagine Honokowai area being a little bit wetter and 1° to 2° cooler then the data below.
Jan
Feb
Mar
Apr
May
Jun
Jul
Aug
Sep
Oct
Nov
Dec
Avg. High
81°F
27°C
81°F
27°C
82°F
28°C
84°F
29°C
85°F
29°C
86°F
30°C
87°F
31°C
88°F
31°C
88°F
31°C
87°F
31°C
85°F
29°C
84°F
29°C
Avg. Low
64°F
18°C
64°F
18°C
64°F
18°C
65°F
18°C
66°F
19°C
68°F
20°C
68°F
20°C
68°F
20°C
68°F
20°C
68°F
20°C
67°F
19°C
64°F
18°C
Mean
74°F
23°C
74°F
23°C
74°F
23°C
75°F
24°C
76°F
24°C
77°F
25°C
78°F
26°C
78°F
26°C
78°F
26°C
78°F
26°C
76°F
24°C
74°F
23°C
Avg. Precip.
3.5 in
89 mm
2.4 in
61 mm
1.8 in
46 mm
1.1 in
28 mm
0.6 in
15 mm
0.1 in
3 mm
0.3 in
8 mm
0.3 in
8 mm
0.3 in
8 mm
1.1 in
28 mm
2.3 in
58 mm
3.3 in
84 mm